This is the first of a series of blog articles and videos on specific sectors of the Russian stock market, as outlined in the last overview video and article. I want to show that there is more in the market than just Gazprom.
Gas and also oil are some of the main goods exported by Russia. Germany for example receives around 40% of its gas from there, other countries even more. That's why this stock is so politically controverse and gives Trump sleepless nights as he want to get a share of Russia's business. Well, bad luck.
Energy Sectors
The energy market for oil and gas consists of 3 sectors:
Upstream – exploration, production
Midstream – transportation
Downstream – processing, distribution and marketing
For oil this a typical system looks like this: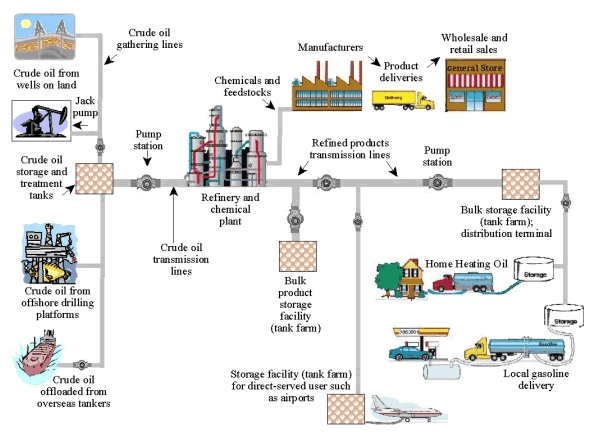 or for gas: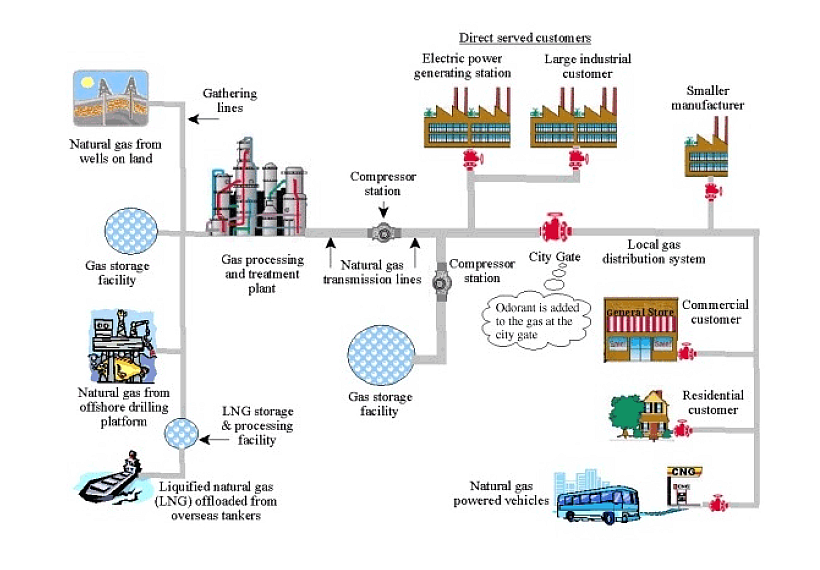 In the Russian energy market we can roughly group the companies like this into the 3 sectors: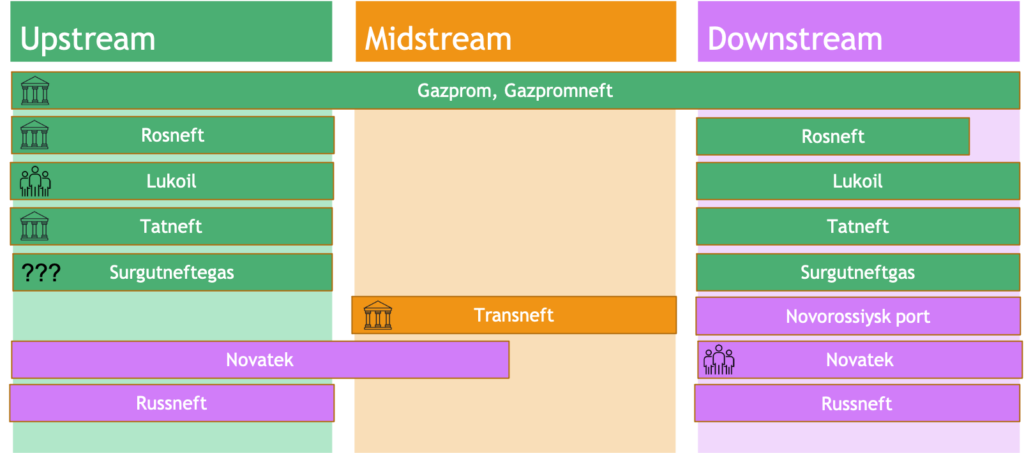 There are two large mainly state-controlled players and this is Gazprom for the gas market and Rosneft for the oil market. Lukoil is the 3rd large vertically integrated company but in private hands.
Tatneft, Surgutneftegas and Novatek are smaller and more independent companies.
Furthermore the large ones have subsidary companies that can be separately traded on the MOEX.
The midstream is dominated by Gazprom, which owns the country's gas pipeline system and Transneft that has a monopoly on the oil pipelines. This fact produces political issues e.g. with Rosneft. Novatek is listed here because they do export of gas in the form of LNG (liquified natural gas) and seems to be in possession of smaller pipelines.
Up- and Downstream
Gazprom as the dominating producer of gas in Russia has several subsidiaries, among them Gazpromneft, that produces oil, Gazprombank a significant bank in Russia as well as regional energy and utility companies. Gazprom is a vertically integrated company and does everything regarding gas from exploration over production, transportation, processing to distribution and marketing. As shown in the last blog post as an example, Gazprom shares are held by the Russian Federation either directly or via the Rosneftegas company that is 100% held by the RF.
The comparable player on the oil side is Rosneft that is also held 40% by the RF. The difference is that Rosneft is not in possession of the pipeline system and is forced to work with Transneft that has monopolised the oil midstream. Rosneft is heavily loaded with debt and has a small part of free float stock, which together with the large share in state hand is not a good indicator.
The third big vertically integrated company is Lukoil, which is private and not state-owned. Lukoil is also doing international business, has refineries and 5000 gas stations.
Tatneft is a smaller and more independent company with good dividend history, owned 34% by Tatastan a region at the Volga with capital Kazan. Tatneft has interesting preferred shares with higher dividend yield but they are impacted by the change of tax for oil fields. They have some interesting side business in the production of tires for trucks.
Surgutneftegas is another smaller and independent company in gas and oil, vertically integrated and diversified wider than Tatneft. Although the "independent" is not so sure as its owner structure is very strange and unclear. Surgutneftegas has gas production and also power plants in Siberia, gas stations in Russia, and delivers oil to Belarus. As such also an interesting income stock, especially its preferred shares.
Novatek is also a private vertically integrated company that runs the Yamal LNG project and is generally strong in the LNG business, where it also does the export using LNG ships.
Apart from these more well-known companies there are a couple of other that are also 50% subsidiaries of Gazprom (and shares of Shell and Mitsui Japan), e.g. Sakhalin Energy that works on the Sakhalin island also with LNG or Bashneft a subsidiary of Rosneft that runs 3 refineries and also has preferred shares.
Rusneft is another company with a holding of US Glencore.
Midstream
Russian midstream is Gazprom for gas and Transneft for oil both as quasi monoplies. Plus one can also see Novatek in there for shipping of LNG. Transneft is 78% owned by the Russian Federation and what's interesting is that one can only buy preferred shares (without voting rights) and all common shares are held by the state. Transneft has an interesting business model with it owning 83% of all Russian oil transport via pipelines, pump stations and tanks. The downside is a high debt load.
I mention Novorossiysk Commercial See Port that operates two port on the Baltic See and the Black See, among it also export of oil and oil products and is connected to Transneft pipelines.
MOEXOG Index
Apart from the main indexes RTSI and IMOEX, the MOEX also offers sectoral indexes such as the MOEXOG (MOEX Oil and Gas) index. This contains pretty much those stocks that we just discussed.
What one can also see how nice the development was until the crisis this year and that also in Russia the energy sector has not really recovered substantially yet.
Summary
The Russian energy sector contains some more interesting titles apart from Gazprom, such as Tatneft, Surgutneftegas and Novatek (of course this is not an investment recommendation, just opinion). Many of these companies are vertically integrated, very well diversified across Russia and have their place in the energy landscape.
There are many political risks in oppositions between players in the market such as between Rosneft and Transneft as well as tax changes that impact the cashflow and thus dividend payments. Nevertheless each has its strengths such as LNG or a monopoly on pipelines or monopoly in a region and all of them have a lot of natural resources and therefore real assets.
I personally try to go more after companies that have a high part of gas and am careful with oil investments in following my energy rules. But you can find your own rules, enjoy!