After the energy sector, we now look at the utility sector in the Russian stock market
Utilities
The word "util" from French or English means something useful. So utilities are companies that provide useful necessary services to the population such as energy generation and transport, water, pipelines etc. The utilities sector can be divided into several types of utilities along these lines:

Utilities are a boring business usually, but one that is stable and calculable in the long-term. Therefore utility stocks often have a good and stable income and thus yield to the investor. Utilities have a moat because they often work in a regulated market and entering this market requires a large amount of capital expenditure. Both of which are high entry barriers.
Utilities have an impact on the environment, therefore I have some rules for myself:
Nuclear power, coal and oil power plant are forbidden
Gas power plants are ok
Renewable energy like wind, solar but also hydropower is super
Commercial water utilities are a no-go, water should be public
Both regulated business models with a regulated protection by a state is interesting as is a component of a free energy market without a moat.
Russian Utilities
Russia is a large country and therefore there are over 440 power plants and a grid with more than 3.2 Mio km of power lines. The public grid is a monopoly und state control as we shall see. The utilities market was privatised partially in the years 2003 – 2006 as a successor of the RAO UES (Unified Energy System – Единая Энергетическая СистемаРоссии).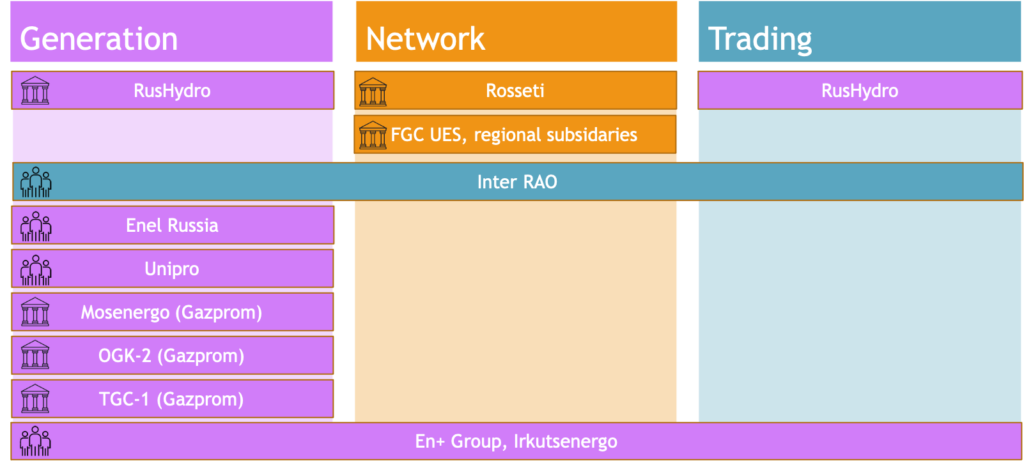 We can separate utilities in what they do in the energy production sector, generation of energy, transfer via grid or trading/sales to companies or the general public. In the generation field there are many players, while only single companies are responsible for the national grid or the import and export of energy out of Russia. Rosseti has the FGC UES as subsidiary and therefore the monopoly on the grid, whereas Inter RAO is responsible for energy import/export to other countries. There are small exceptions where companies own a part of some grid lines like RusHydro or En+ Group.
Energy Generation
Gazprom is not only a oil and gas company but also a utility as it has subsidiaries in this space, the rest are pure utility companies:
Mosenergo, OGK-2 and TGC-1 are subsidiaries of Gazprom, Mosenergo as the name implies in the region of Moscow. All of them are owned by Gazprom Energoholding with different percentages. OGK-2 has 12 gas and coal power plants, Mosenergo 17 and additional hydro power and nuclear power plants, TGC-1 has 40% hydro power. All have good ratings from western rating agencies but TGC-1 has low debt load.
The question is does it make sense to invest in subsidiaries of Gazprom instead of the parent company? Only if one would specifically get exposure to Gazprom without the main business or specially the Moscow area, probably.
RusHydro is an interesting business, completely in hydro power plants. RusHydro is owned 62% by the Russian Federation and has 70 renewable energy facility including wind power installations and geothermal plants.
A disadvantage is a debt load through a holding of RAO ES East.
After these rather state-controlled players in the market there are also private companies. These are Enel Russia, a subsidiary of the Italian Enel Group in Russia and Unipro, the business of Uniper in Russia.
Enel Russia is a special case as this company is divesting its last but very large coal power plant and concentrating strategically on renewable energy only. It has regulated and unregulated business in power and heat production with gas power plants in 3 regions. Staring 2021 it will operate wind power installations in 3 regions as well.
Through the selling its large coal power plant, its market share and sales has decreased, so it is a bet on renewable energies in Russia. This is not a very popular topic in Russia due to the low energy prices for conventional means. Furthermore it has a digital business with Enel X Rus.
Unipro is not so consequently moving to renewable as they have gas and also coal power plants in 5 regions including Moscow. Also the disadvantage is that the parent company Uniper is in the nuclear energy business, see my rules.
National Grid and Export
FGC UES is managing the Russian grid and is a subsidiary of Rosseti. The company is owned by 80% by the Russian Federation and has a high debt load. Apart from FGC UES Rosseti has many more regional subsidiaries, where some are also found on the MOEX. The Rosseti company has detailed information for investors in English.
Rosseti (MCX: RTSI, ISIN: RU000A0JPVJ0)
FGC UES (MCX: FEES, ISIN: RU000A0JPNN9)
Inter RAO (MCX: IRAO, ISIN: RU000A0JPNM1)
Rosseti also has preferred shares (MCX: RTSIP, ISIN: RU000A0JPVK8) and as many Russian companies also GDR on the LSE and BSE. Owned 88% by the Russian Federation there is not a lot of free float.
Inter RAO also has federal participation as 28% via Rosneftgaz. Inter also is involved in production, engineering and supply of power but is also doing the international energy trading into the Baltikum and Finland and has the monopoly for energy import.
Summary
Utilities in Russia are an interesting investment target, especially when the move to renewable energy is going forward and there is a lot of room for that. RusHydro and Enel Russia are promising ideas in this respect.