Russia is exporting gas and oil but also other commodities. This article is looking at the non-energy commodity stocks listed at the MOEX, the Moscow Exchange. There is more to discover than Norilsk Nickel in the Russian market.
Overview
As an overview we group the companies in the Russian market by resource they produce: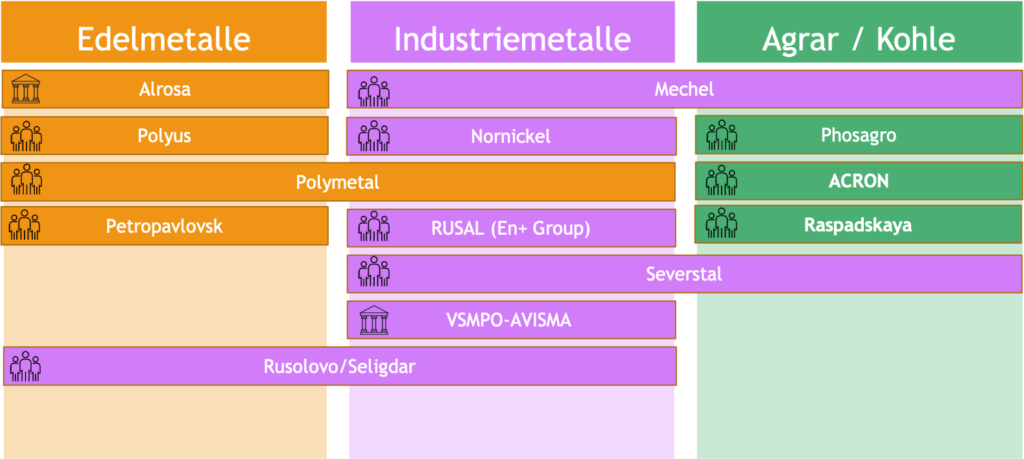 There are gold mining companies, other industry metals and producers of fertilisers. The two large steel mill operators also produce coal for own use, while Raspadskaya is only making into coal. Alrosa as diamonds miner is also working on the element C but in a nobler form.
Anyway, elements, this is an overview by element and which company mines these: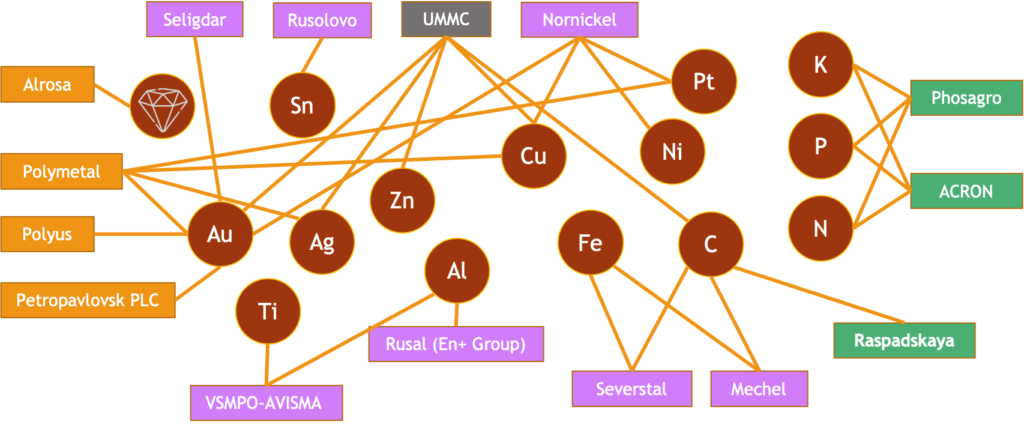 All Russian commodity companies are vertically integrated, which means they are involved in mining, processing and sales. But some specialize in a single mineral while others mine a whole range of industrial metals.
Gold and Silver
The following are gold and sliver miners listed on the MOEX:
Polyus, Petropavlovsk and Polymetal have also a listing on the LSE (London Stock Exchange), Polymetal additionally on the AIX (Astana International Exchange) as it has mining activities in Kasachstan as well. Interesting is that both Polyus and Petropavlovsk have non-Russian ISINs and are PLCs (public limited company) in Jersey (tax paradise) or UK and the face value is in GBX (Great Britain Sterling Pence). But both have their business activities mainly in Russia.
Steel, Aluminium and Coal
The two main steal producers are
Mechel (MCX: MTLR, ISIN: RU000A0DKXV5, NYSE: MTL)
Severstal (MCX: CHMF, ISIN: RU0009046510, LSE: SVST)
Both have iron ore mines and steel plants as well as coal mines. But the produce coal mostly for use in the production of steel. Mechel has a secondary listing on the NYSE in the US since 2004 and Severstal is listed additionally on the LSE.
The third company
is a pure coal producer that sells in Russia as well as exports coal to China, that still satisfies a high percentage of its energy needs using coal power plants. But of course also China tries to move from coal to renewable energy and therefore will reduce coal imports over time, so that this might not be the best stock to invest in. Also note the strange face value of 0,004 RUB.
Mechel has as subsidiary its own utility company Mechal-energo that produces power for its plants. Severstal claims to use 90% hydropower.
Mechel has gone through a near default in 2014 and is loaded with lots of debt. 51% of its shares are held by management, 43% are free float. Severstal is also held privately with 22% free float.
Russia's aluminium business is dominated by
RUSAL (MCX: RUAL, ISIN: JE00B5BCW814)
with a secondary listing on the HSE (Hong-Kong Stock Exchange). RUSAL is a subsidiary of En+ Group, that we covered in the article on utilities in Russia (https://www.outside-invest.de/2020/12/23/overview-utility-stocks-russia). 2007 RUSAL was merged with SUAL, also Russian Aluminium and the Aluminium business of the US company Glencore. Only 16% of the stock is free float.
RUSAL had been impacted by the US sanctions (owned by Deripaska) and has suffered a near default in 2018 and therefore is loaded with lots of debt.
In general I am cautious with these classical iron and aluminium businesses and coal is a no-go anyway, see energy rules.
Industry Metals
When we continue looking at industry metal companies we find on the MOEX these companies:
Shareholders of the well-known Nornickel is Vladimir Potanin (via a Ltd) and the En+ Group, 38% are free float. Nornickel is mining Palladium, Nickel, Platinum as well as Copper and Cobalt, Rhodium, Iridium, Ruthenium, Silver, Gold, Selenium, Tellurium etc.
Nornickel is known for the city of Norilsk, its main site, as one of the worlds polluted cities in Siberia. Recently it also suffered a oil spilling incident and is under pressure from Putin.
VSMPO-AVISMA is a specialist in production of Titanium and one of the worlds largest supplier of this metal, especially used in air and space industry. This is also the reason that the company is owned by Rostec, behind which is the Russian Federation.
Rusolovo is mining tin in the far east and is owned by Seligdar (see above). This is a small cap and has a high debt load.
Fertilisers
In Russia there are two main producers of fertilisers (NPK):
Phosagro (MCX: PHOR, ISIN: RU000A0JRKT8)
ACRON (MCX: AKRN, ISIN: RU0009028674)
Phosagro has a secondary listing at the LSE and is producing fertiliser and insecticides for the Russian and North European market. The ex Russian company Apatit has been merged 2013 and has before been owned indirectly by Michail Khordorkovsky. Today main shareholder with 65% is Andrey Guryev and other oligarchs, 30% is free float.
Another producer of NPK fertilisers with 2 production plants is ACRON, which has own logistics with train wagons and and port facilities and produces for Russia, China, EU and Brazil. It has a cooperation with Rio Tinto.
Shareholders is Acronagroservice, other investment companies and in the end is owned by the oligarch Viatcheslav Kantor via Terasta Enterprises Limited. The company is very modern also in its English presentation and had 8,3% dividend yield over the last 5 years. In Q2 this year it made losses though.
Diamonds
Last but not least, we come to diamonds and as we know diamonds are a girls best friend. Alrosa is the vertically integrated diamond producer of Russia (exploration, mining, production and sales) with 27% share on the world market. Alrosa has also a mine in Angola, Afrika.
The company belongs one third the Russian Federation, another third the region of Yakutia and the last third is free float.
Alrosa owns the mine Mir in Mirny well-known as the world's deepest hole. Attention, the face value of the stock is 0,5 RUB.
Summary
The gold companies have a high valuation at the moment, the same as Nornickel. Thus a value investor should probably wait for a better entry point. Especially Polymetal and Alrosa might be interesting investments. Certainly some of the old industries like steel or fertilisers are less interesting although Severstal and ACRON seem well managed on the first look.
Finally the interesting fact is that many of the commodity companies are privately held, except for resources important for space and defense such as VSMPO-AVISMA or also Alrosa in contrast to the energy and utilities sector.